Born, raised, and hoping to stay in the Northwest, I can't help but to love the beautiful nature that surrounds us. I think it is positively wonderful when weddings can bring in elements of the natural world so that they come across as fresh, organic, and less commercial.
Here are some examples of things that I absolutely love for their environmental friendliness...


Recycled Jewelry
(
Green Karat
)
This website is dedicated to recycling metals, precious stones, and other materials in order to create beautiful jewelry. This method removes the danger of buying into conflict diamonds/materials, and does not leave a negative impact on the planet. I found this ring, which I think is just beautiful. It's not wedding jewelry, but gives an idea of the unique pieces that this company sells.
Recycled Paper
(
Custom Paper
)
Do-it-yourself invitations already cut back on waste, cost, shipping, etc. Recycled paper can add a beautiful touch to the final product. I found some impressive creations at Custom Paper, which could be easily replicated. There are many places, online and locally, that sell attractice recycled paper products.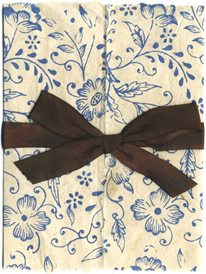 Eco-Friendly Centerpieces
(
Viva Terra
)
Viva Terra is just one example of a company which produces natural and organic decorations and accents. Local flea and farmer's markets and community co-ops also offer different ideas. I love when greenery, rocks, twigs, and water are used (it's a surprising departure from the usual flowers!). I also think that candles and lanterns can warm up a reception, even in the late morning or afternoon. There is a certain timeless quality about natural light (and if I do end up having a winter wedding, I will need lots of light!).
Yesterday, Fiance and I walked through the Fremont Sunday Market, one of our favorite things to do while in Seattle. There are so many stunning objects made locally or just creatively recycled. It is a goal of mine to add the elements of nature and artisan craft to my wedding.
-Anna